Advanced Dental Technology & Patient Comforts – Plattsburgh, NY
Fast, Comfortable, & Effective Care
At our practice, we make a concerted effort to use only the latest, proven dental technology. With it, we're able to consistently provide our patients with high-quality, precise, and comfortable care. Using the newest tools, we'll be able to find, diagnose, and treat your dental issues even faster while limiting any discomfort or stress you may experience in the chair. With us, you can trust that you're getting the very best of what 21 st-century dentistry has to offer.
Why Choose Michael T. Davey DMD for Advanced Dental Technology & Patient Comforts?
Gentle Sedation That Soothes Dental Nerves
Fast, Low-Radiation Digital X-Rays
Quick & Painless Laser Gum Therapy
Nitrous Oxide Sedation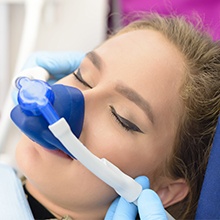 Nitrous oxide, better known as "laughing gas," has been used for well over 100 years to help slightly nervous dental patients relax during their appointments. All a patient has to do is wear a small nasal mask and breathe in the colorless, odorless gas to start feeling a deep sense of physical relaxation. The mask will stay on for the entire appointment, and once everything is finished, it is removed and the gas' effects wear off almost instantly, allowing you to quickly go back to your day.
Intraoral Camera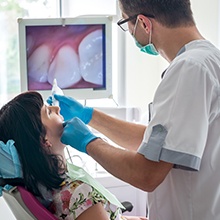 Thanks to our intraoral camera, we're finally able to show you your smile for your dentist's point of view. This small, camera-tipped wand can be comfortably maneuvered through the mouth to capture high-resolution images of the teeth and gums we can then display on a large chairside monitor. This not only makes it much easier for our team to spot dental issues, but it'll also allow us to actually show you what we're talking about when it comes to your smile so you can see exactly why we're recommending certain treatments.
Digital X-Rays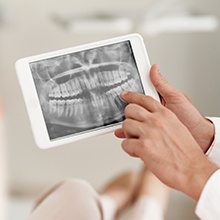 X-rays have been an essential diagnostic tool in dentistry for decades, allowing doctors to look below the surfaces of the teeth to catch potentially hidden problems. Our office has upgraded to only using digital X-rays because they not only create images much faster than traditional film-based ones, but they also expose our patients (and us!) to up to 90% LESS radiation. And, because the images are entirely digital, they can be easily stored, sent, and displayed on a nearby monitor so Dr. Davey can go over them with you.
CT / Cone Beam Scanner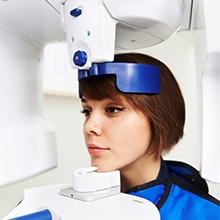 This device gives us the ability to create a fully digital three-dimensional X-ray image of your teeth, jaw, and other surrounding structures. With it, we'll be able to gain an even deeper understanding of your dental health as well as learn more about your dental anatomy. Using this kind of image, we'll be able to precisely plan more complicated procedures such as dental implant placement. It will enable us to find the perfect place(s) in your jaw to place the implants while avoiding any sensitive nerves to ensure both the treatment's success and your comfort.
Soft Tissue Laser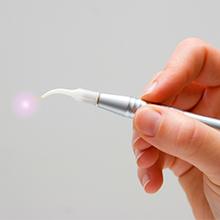 Lasers were first introduced to dentistry around 1994, and now, they are a normal part of our everyday daily toolkit. With our soft tissue laser, we're able to perform the most sensitive procedures with relatively ease, especially when it comes to periodontal therapy. The laser's highly-focused beam of light is able to quickly eliminate bacteria located along the gum line as well as painlessly remove infected tissue. It creates very little heat, noise, and vibration, ensuring an overall comfortable patient experience.