Dental Implants – Plattsburgh, NY
Permanent, Natural-Looking Tooth Replacement
Over the past two decades, dental implants have become the premier tooth replacement solution, highly-preferred by both dentists and patients alike. Dental implants, unlike other restorations, actually restore the entire tooth's structure from root to crown, enabling a tooth to regain its original form and function. This also prevents the jawbone loss that is so common after tooth loss, something which no other treatment can do. They can be used to replace any number of teeth, and unlike many other general dentists, Dr. Michael T. Davey is actually able to handle the entire procedure himself.
Why Choose Michael T. Davey DMD for Dental Implants?
Entire Procedure Performed Under 1 Roof
Extensive Experience with Implant Dentistry
State-of-the-Art Office
What is a Dental Implant?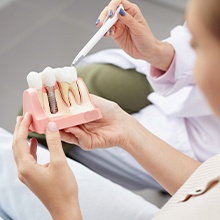 A dental implant is actually a small titanium post that is placed directly into the jaw, and to do this, a minor surgery is needed. Afterward, the new root is topped with a restoration to bring back the visible part of the tooth. With our practice, we'll be there every step of the way to ensure you're always comfortable and informed as we rebuild your smile.
Benefits of Dental Implants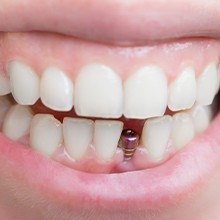 Because dental implants replace the entire tooth from root to crown, they are extremely stable, much more so compared to removable bridges and dentures. This means that patients are able to eat whatever they like with complete confidence. Plus, the implant roots actually prevent bone loss in the jaw, which helps a patient maintain a healthier, more youthful facial shape as the years go by. Speaking of which, with minimal maintenance, an implant can easily last for 30+ years.
Are Dental Implants Right For You?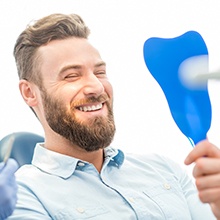 Whether you are missing a single tooth, most of your teeth, or all of them, Dr. Davey can use implants to help you recover your smile. He can formulate a treatment plan to reverse every degree of tooth loss: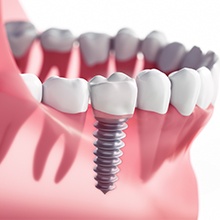 Missing Single Tooth
A dental implant root is positioned within the jawbone between two healthy teeth, and then it is topped with a custom-made porcelain crown. This crown will be self-supporting and specially-colored to perfectly match the rest of the smile.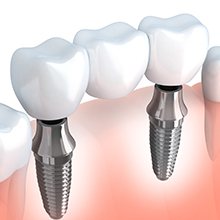 Missing Multiple Teeth
A small number of implant roots can be used to attach a bridge or partial denture to the jawbone that restores several teeth at once. This approach provides a prosthetic that is much stronger than a traditional removable one, plus it's more cost-effective compared to using single implants for each individual tooth.
Missing All Teeth
A full denture can be anchored directly to the jawbone using just four to six implants. This type of denture allows a patient to recover practically all of their bite strength, plus the teeth can be trusted to never shift out of place during speaking or chewing.
Start to Finish Convenience
After finishing his basic dental training, Dr. Davey completed a 30-month residency solely dedicated to oral and maxillofacial surgery, which largely focused on placing and restoring dental implants for patients with a wide variety of needs. This specialty training enables him to provide every part of the implant procedure under one roof, saving our patients from having to visit an outside doctor to recover their smiles.
Understanding the Cost of Dental Implants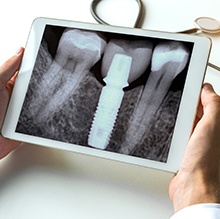 Every dental implant treatment provided by Dr. Davey is unique based on the needs of a patient, so the cost is always different from person to person. We can go over every detail of your implant treatment during a one-on-one consultation so you'll know exactly what to expect. While dental implants do tend to cost more upfront compared to other treatments, their ability to last for multiple decades often helps patients save money in the long run because they don't have to regularly replace their new teeth.