Restorative Dentistry – Plattsburgh, NY
Bring Back Your Smile
It's very common for the teeth to break down over time, even if you take care of them consistently. This often leads to chips, cracks, decay, and even missing teeth which can seriously compromise both your smile's appearance and health. At our practice, Dr. Michael T. Davey and our team are able to reliably rebuild our patients' smiles using restorative dentistry treatments. Utilizing strong, natural-looking materials and a meticulous attention to detail, we'll restore your smile in such a way that only you and Dr. Davey will know that you've had dental work. Does your smile need a little help? If so, contact us today for an appointment.
Why Choose Michael T. Davey DMD for Restorative Dentistry?
Extensive Experience Providing Natural-Looking Restorations
Solutions Designed to Last for Decades
One-Visit Tooth-Colored Fillings
Traditional Crown & Bridge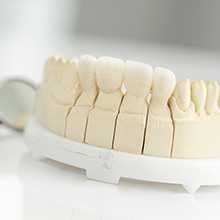 When a tooth's structure has become compromised, a dental crown can be used to restore it to its original shape and function. A crown is a tooth-shaped "cap" that fits on top of a damaged tooth and fully encases it to protect it from further decay and wear. It can be used to address a large cavity, a broken tooth, or to simply enhance a smile cosmetically. Crowns can be made of a variety of materials including metal, porcelain-fused to metal, and entirely porcelain. Typically, it takes about two appointments to have a crown placed. This will involve preparing the tooth to fit the crown, taking an impression, send it to a dental lab, placing a temporary crown, and at your final visit, placing your permanent crown.
And, if you have a missing tooth or a few in a row, two of these crowns can be used to form a bridge and replace them. One crown will be placed on the teeth on either side of the open space, and these will be used to support prosthetic teeth that literally "bridge" the gap and complete your smile.
Tooth-Colored Fillings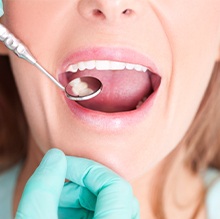 If a tooth develops a small cavity, we can usually repair it using a filling. At our practice, we prefer to use composite fillings as opposed to traditional amalgam for a few key reasons. One, the composite is better able to mimic the natural look of a tooth as it can be specially shaded to match a patient's tooth color. Also, it forms a direct bond with the enamel, which is something amalgam cannot do. This allows Dr. Davey to preserve more of your natural dental structure when placing it, which will help your tooth better maintain its strength over time.
To get a filling, Dr. Davey will first remove any decayed portion of your tooth, apply the composite to fill in the space, and then harden the material with a special light. After that, you're done! Because the material is metal-free, it won't make your teeth more sensitive to temperature extremes, and it's also ideal for patients with metal allergies.
Full & Partial Dentures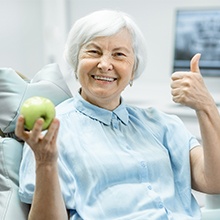 When a patient is dealing with multiple missing teeth, dentures can provide a relatively quick, affordable, and realistic-looking restoration. They can be used to replace numerous teeth located around the mouth as well as an entire row. Today, modern-day dentures consist of a realistic-looking gum-colored based attached to ceramic teeth and are smaller and more comfortable than ever.
If a patient is missing multiple teeth that cannot be replaced with a bridge or dental implants, then a removable partial denture may be the best solution. This will be designed to replace the missing teeth while fitting in with the remaining ones seamlessly, much like the missing piece of a puzzle. For patients who need a replacement for all of their teeth on the upper and/or lower jaw, we can use what is called a full denture, which is a complete row of teeth that simply sits directly on the gums to restore the smile.