Dentist – PlattsburgH, NY
Get To Know Dr. Michael T. Davey, DMD, PhD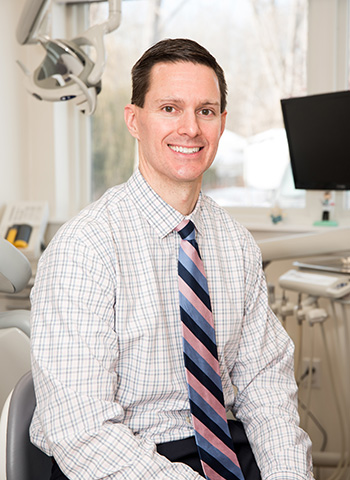 With nearly two full decades of experience in the dental world so far, Dr. Davey has seen it all when it comes to improving teeth. He loves having the opportunity to help people smile and working closely with them to accomplish their goals, whether that involves beautiful cosmetic solutions or extensive oral surgery. If you'd like to learn more about him, just keep reading below.
Why Did You Decide to Become a Dentist?
While undergoing orthodontic treatment in high school, Dr. Davey experienced a traumatic sports injury that almost cost him his two front teeth – in fact, the orthodontic wire was the only thing keeping them in his mouth! The accident happened at 9:00pm, but his orthodontist was kind enough to come into the office and put his teeth back into their proper place. That experience solidified his desire to become a dentist and help others in the very same way.
Where Did You Study Dentistry?
Dr. Davey was born in Plattsburgh, NY and attended AuSable Valley Central School and St. Lawrence University. From there, he received his DMD from the Boston University Goldman School of Dental Medicine. He also achieved his Doctor of Philosophy in Oral Biology at Boston University and completed 30 months of residency in Oral and Maxillofacial Surgery at Boston Medical Center. This training involved a large number of complex and difficult cases and expanded his skills in advanced anesthesia, wisdom teeth removal, implant surgery, and more.
After serving as a faculty member at the Boston University Goldman School of Dental Medicine, Dr. Davey founded this private in 2010. He regularly pursues continuing education courses for himself through Spear Education and for his team through Spear Practice Solutions so that everyone stays at the top of their game for the sake of the patients.
Outside of the Dental Office, What Do You Like to Do?
Dr. Davey currently lives here in Plattsburgh with his family and his English Bulldog named Henry. Outside of working hours, he enjoys spending quality time with his loved ones, traveling, practicing photography, and carving Jack-o'-lanterns. He's also passionate about trying to learn something new every day!